Laszlo photographed over thirty Holocaust survivors for this moving photo essay. His striking photographs are accompanied by reading brief stories of survival which were told to Bobbi Kaufman. Visages of Memory was produced for an art exhibit at the Miami Dade College during the pandemic and was presented digitally along with the moving and succinct survivor stories.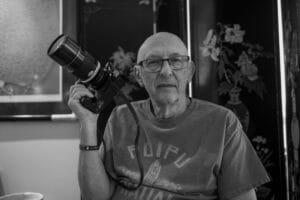 PRESENTED BY LAZLO SELLY AND BOBBI KAUFMAN
Laszlo Selly and his twin brother were born in Budapest, Hungary, on December 31, 1937, into a middle-class, secular Jewish family. At six years of age, he remembers his mother sewing a yellow star onto his outer garments.
Desperate to keep their twins safe, Laszlo's parents made the difficult decision to send them into hiding. This plan led them into great danger and they returned to their parents. Somehow, Laszlo's father obtained a Raoul Wallenberg certificate of protection that allowed the family to move to a safe house. After liberation by the Soviets, the family began rebuilding their life in Budapest. The twins started school and underwent ten years of intense communist indoctrination. As Laszlo was completing his training as a professional photographer, the 1956 Hungarian Revolution began. During the chaos of the revolution, Laszlo and his brother escaped from Hungary and made their way to the United States. In New York, Laszlo became a very successful food photographer working with advertising agencies, hotel chains, and package designers. After he retired, Laszlo and his wife, Gail, moved to Florida to be near their family. Laszlo speaks nationally about his experiences during the Holocaust and has shared his digital photo essays nationally.
When: January 25, 2023 at 7 PM Eastern
Registrations for this webinar are closed.